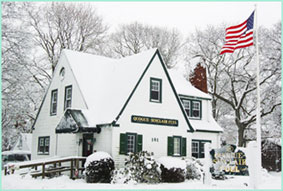 We are Quogue-Sinclair Fuel and, since 1954, we have been at home in the Hamptons. We hope you will be too.
"QS" - It doesn't just stand for "Quogue-Sinclair" ... it also stands for "Quality Service." We proudly serve the East End, and are one of the few companies in the region to deliver B20 Bioheat® fuel – the renewable home heating fuel that lowers your carbon emissions by about 15%. We also provide around-the-clock emergency service and installation of new equipment.
Quogue-Sinclair is a woman-owned, second-generation family-owned company, with deep roots in the community. Our commitment to providing personal, responsive service and environmentally friendly heating solutions is rooted in this connection with our East End neighbors.
We are proud to offer you convenient online services, allowing you to check on your recent deliveries, service history and account balances. If you are not a customer and would like to become one, simply complete our quick and easy New Customer Enrollment form.
If you have any questions, don't hesitate to call us at (631) 728-1066 or contact Quogue-Sinclair using our convenient online contact form.